Mike Barrett
Full name
Michael John Barrett
Nationality
England
Rovers apps (goals)a
129 (18)
Position
Midfielder
Date of birth
12 September 1959
in Bristol
Date of death
14 August 1984
in Bristol
Height
5 ft 10 in
Joined
Summer 1979 from Shirehampton Sports




Senior clubs
Shirehampton Sports
Bristol Rovers
a League appearances and goals only
Last updated by Gasheadsteve on 27/10/2011
Mike Barrett was a winger who played for Rovers from 1979 until his untimely death in 1984 at the age of 24. He signed from local non-league club Shirehampton Sports, and made 129 league appearances for the Pirates during his brief career.
After struggling to keep pace with a training session in 1984 he was admitted to hospital for checks, and it was there that he was diagnosed with cancer. He died on 14 August that year, six weeks before the birth of his son, Liam.
Born and raised in Bristol, Mike was a pupil at St. Bede's Catholic School in the Lawrence Weston area of the city in the 1970s. He had a trial with Bristol City as a youngster, but after failing in his effort to earn a contract he joined Shirehampton Sports, where he spent three years playing on the local non-league scene.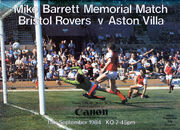 After signing for Rovers he was something of a fringe player, making a handful of appearances in his early years with the club. He later went on to establish himself as a first team regular though, and by the time of his death he had played in 129 league games and scored 18 goals.
Rovers played two testimonial games in his honour in 1984, against Aston Villa and his previous club Shirehampton Sports.
Career stats
Edit
N.B. Only professional league appearances are included here. (Source: Pirates in Profile)
Record against Rovers
Edit
Mike never played a competitive first team match against Bristol Rovers.
Community content is available under
CC-BY-SA
unless otherwise noted.