Bruce Bannister was a Yorkshireman who played a key role in one of the most successful Rovers teams ever. Forming half of the legendary "Smash & Grab" partnership with Alan Warboys, the pair bagged 133 goals for the club between 1971 and 1976. During this spell Rovers had their only ever national cup competition win when they picked up the Watney Cup in 1972, and in 1974 they won promotion for only the second time since joining the Football League in 1920.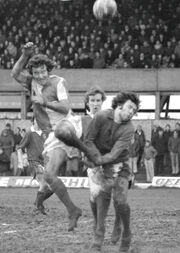 In all Bannister played 206 league matches for The Pirates, scoring 80 goals in the process and making a name for himself on the national stage. He was the club's top goalscorer during the 1972–73 and 1975–76 seasons, and his tally of 25 goals in the former is one of the highest single-season totals the team has ever seen, in fact no one scored more goals in a single campaign after that season until Rickie Lambert's 29-goal haul in 2008–09.
He eventually left Rovers in 1976 to join Plymouth Argyle, but he still remains thought of as one of the all-time Rovers greats.
Born in Bradford in 1947, Bruce began his career with his home town club Bradford City, making 208 league appearances in a six-year spell there and scoring 60 goals. He joined Rovers in 1971 and then Plymouth Argyle five years later in 1976. He spent just one year with Plymouth, where he made 24 league appearances and scored seven goals, before moving north for a three-year stint with Hull City. He scored 20 goals in 85 games for Hull until moving to France to join USL Dunkerque in 1980, ending his playing career in 1982.
Community content is available under
CC-BY-SA
unless otherwise noted.